We have decided this month to focus on one of EUROCO's activities: container consolidation on behalf of our customers.
Indeed, if our customers want to order a family of products (eg mustards) but there is not enough to justify a full container, we offer them the possibility of ordering three or four additional product lines at the same time. extras (e.g. couscous, biscuits and oils). The sum of these orders will represent a complete container, 20' or 40'. It should be noted that we can also consolidate reefer containers at + 15 °c (chocolates, chocolate biscuits) or frozen at minus 18 °c.
The organization is simple and well-established: we ask our suppliers to deliver goods into our Marseille's warehouse and, when all goods are received and checked, we ship the consolidated containers to our customers.
   eg : Assorted container for Japan and USA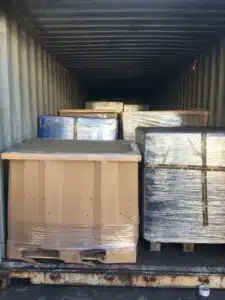 The benefits of consolidation are multiple for our clients:
– Receipt of reasonable quantities by reference which avoids over-stocking, food waste and the risk of loss
– Regular receipt several times a year of products with a recent production date and therefore a long expiry date.
– Receipt of goods that have been checked before being loaded into containers: general condition of the products, labeling and dating. This avoids customs clearance difficulties at destination.
– Receipt of a single set of documents issued by EUROCO
Finally, this consolidation service is available for all regions of the world.
Contact us for more information about this service and/or our product range